With more people needing advice from home, online consultants are in great demand. Digital wellness consultants need a good digital business platform in order to provide online consultations. Time is valuable and it's important to maximize productivity.
Here are some appointment and meeting booking platforms I have tried and found them easy to use. They also have extensive capabilities to naturally grow your online practice.
These platforms are meant to act as a "front" for your practice. Tele-medicine and wellness consultant marketplaces are crowded and dilute your brand. Sure, they work great in generating new clients, however businesses today need their own dedicated channel to maximize brand recall and customer engagement.
Kartra
Calendly
SimplyBook.me
The criteria for selection of these solutions include abilities to sync the platform bookings with your Google Calendar, allowing you to setup your availability and a payment solution. They also shouldn't require you to have an existing website, although we have chosen these platforms based on their 3rd party ecosystem, it is possible to integrate them on your existing domain name or website. These platforms also allow you to setup customized follow-up emails before and after your meetings.
Kartra
Kartra is pure cloud software (read 3rd party hosted). All you need is an internet connection to use it via the web browser. You'll always have the latest, greatest version.
For an online consultation business, I recommend the Kartra Calendar solution. It offers a quick way to offer real-time appointment bookings, cancellations, rescheduling, notifications. It also offers extensive capabilities such as offering recurrent online classes, webinars (subscriptions) and live events. The solution when implemented well is a delight to use, for both your clients and you!
Besides Kratra as a platform also provides capability to implement a helpdesk, funnel campaigns, affiliate program and e-commerce shop. You can get a free 14-day trial and get started!
Kratra is indeed an advanced business solution meant for busy doctors who usually have a queue at their office to transition to an online practice. The entry level account is $99/month, and it allows you to run your entire business website with them.
Calendly
If you regularly use email for online business, you may be aware of Calendly. It is a simple solution to open up your calendar and receive bookings easily. It would not take more than 10 minutes to get started. While it isn't as extensive as Kartra, it's a great solution that should help you get started with your patients or clients quickly.
The Calendly Pro plan costs 12$/month and allows SMS notifications, live video integrations and allows advanced payments using your Stripe and PayPal account. There is a 14-day trial available to help getting started!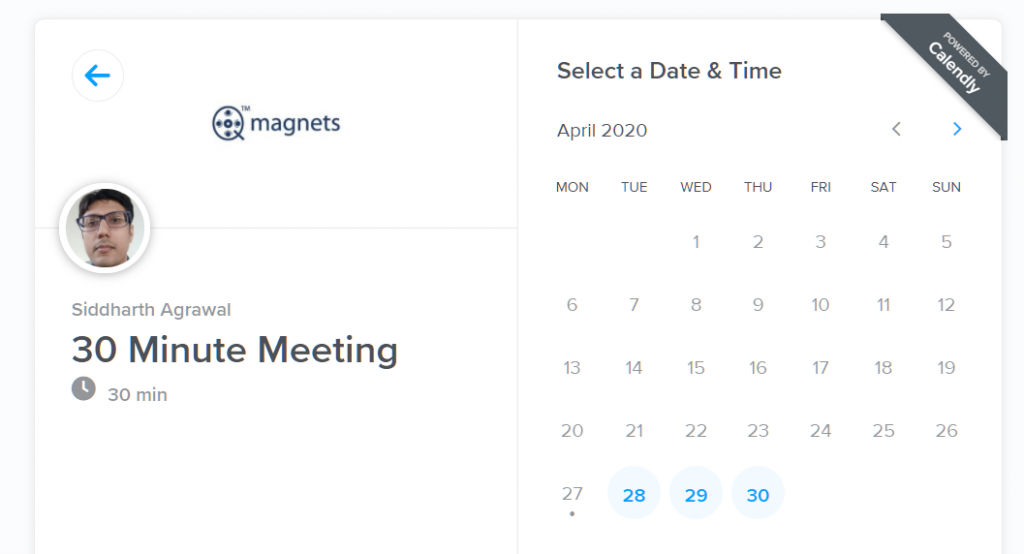 SimplyBook.me
SimplyBook.me is a HIPAA compliant online appointment platform that can be of great use to wellness consultants. Patients can schedule themselves and you can setup your availability and calendar with ease. It's possible to adjust settings that will allow you to easily update business hours, set time-slots and holidays. This appointment booking platform works great for wellness consultants such as doctors, dentists, private practices, clinics and all those who want to accept online bookings, and don't necessarily want to tell their clients to go to a common doctors directory to make bookings.

Intake forms and progress tracking is also available on SimplyBook.me. You can create a variety of fields to collect more data from your clients and be prepared for the appointment. Any information can be requested, for example, age, allergic reactions, previous illnesses, symptoms, etc. On top of that you can enable our SOAP custom features which allows you to insert a series of time stamped text records with 4 text fields that part of the history of each patient. SOAP stands for subjective, objective, assessment and plan and helps you to keep track of your customers progress throughout the lifespan of your service.

Customizable notifications and reminders makes it a good customer experience. The system will also send them automatic reminders before the service appointment which should reduce 'no-shows' considerably.
The pricing is decent with an approximately $10/month charge for a payments accepting online consultant account.
The Verdict
While these solutions and should work well for any practice, it's certainly not everything needed for digital success. You would also want press coverage, business development and/or professional marketing support to grow your online practice much faster. I believe that using your own infrastructure such as your own server and an open source platform such as WordPress is a much more effective way to operate an online business. This gives you much more flexibility in pivoting to new trends in technology as well as more opportunities to improve customer engagement and customer service.